Like toxic ex's, and tequila shots, 2020 is taking a lot out of me. Almost every major tour, festival, and event has been cancelled at this point, and everyone is seemingly asking the same question. When will life go back to normal?
The more time that passes, the more unrealistic it seems that we will be getting events back in September as many experts have suggested. So we are left here with a lot of questions. Let's start with the one that I think is most directly in people's minds. AM I GOING TO SEE ANY SHOWS IN 2020? At the moment I would say yes, events realistically will still happen this year. What I do not think will happen is the plethora of shows, festivals, and events scheduled for September.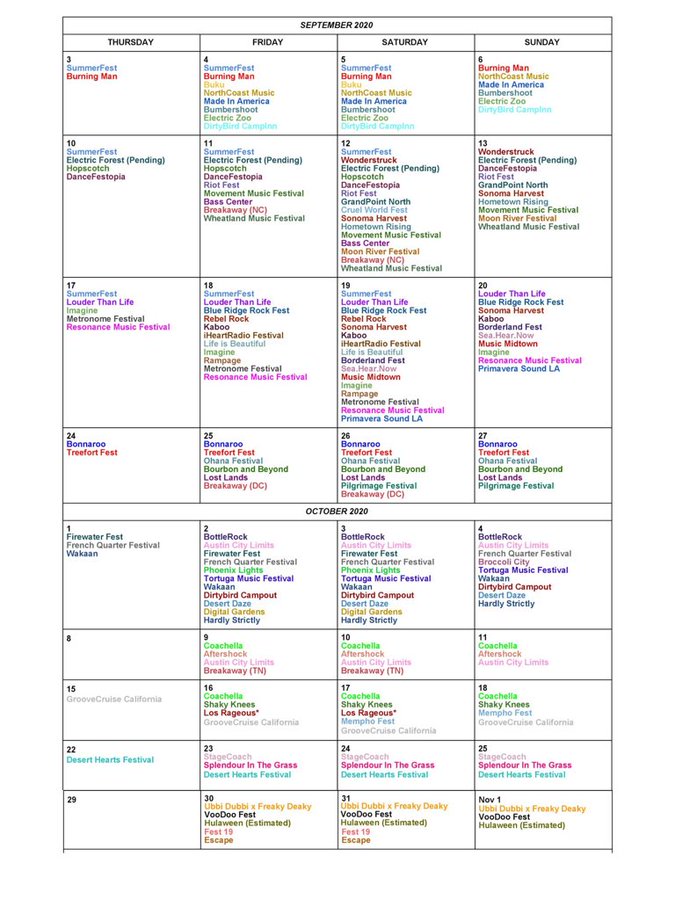 If you take a look at the calendar above, you might see a touch of overlap. Basically, every event that was slatted over the next 6-month period is being jammed into 8 weekends in September and October. I am no expert, but this is going to cause a lot of issues for the festival circuit and many major festivals could be done before the year is out.
Even this calendar now is missing some major events that still haven't cancelled yet (Hangout Fest, Rolling Loud Miami) and it is still with optimism that these events even get cleared to go by September. This also excludes individual tours, that many artists have put on halt, Post Malone, The Weeknd, Tame Impala, to name a few. So, what happens when everything stops for a few months and everyone wants to start again at once?
In the next year or two the entire landscape of music is going to have a dramatic change. I predict we will see most changes in our vastly expanding festival scene. For the past 5 years or so, any weekend from March to September, you could guarantee a festival to land. The growth has come in smaller formats where there is so much demand for these events that collectives have started throwing them, i.e. Wonderland that was put on this year in Florida, and even on a bigger platform with Bassnectar's DejaVoom festival was heading into it's second year before the COVID-19 outbreak. Large festivals that popped up overnight, Okeechobee Music Festival and Day N Night as some examples, will suffer deeply from this, as while the demand is high the events have done well, with a total skip in income for a year and still having to dish out some expenses in marketing and artist down payments, you start to wonder… how many will make it to 2021?
As we will see a fall for some corporations and major festivals, who will really feel the burden of this is the smaller artist, vendors, and visual artist who rely so heavily on these events as a source of income. It's somewhat forgotten at points, but unless your name is in big letters across the top line, you do these events for work and income. The smaller artists you love make most of their income yearly from events and shows, with that being removed the ability to create might be gone with it. In these times try to support as many of these artist, musicians, and performers as you can. Buy an album, buy a t-shirt, show a friend an artist they might enjoy and support them! If you don't you might not get to see them again when this all dies down.